About Your Tutor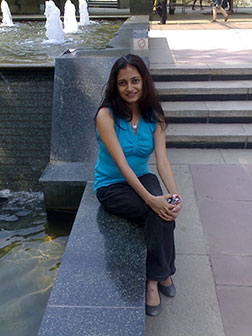 Hi! I am Madhavi and I love teaching people how to create stuff on their own
I am so happy that you decided to join this course.
Art and craft is my passion and I have been sharing my creative skills with others. With over 10 years experience in blogging about art and craft and doing numerous projects, you could say that I live, dream and breath a creative life. It's part of everything I do :)
I studied Accountancy at a University, but my life took an U-turn after my marriage. I had a lot of free time so I ventured into art and crafts, and I also met my best friend during this journey. She was my mentor and now my friend. Crochet is one craft that I fell in love with, and would say I am now better than my teacher.
To me there is nothing better than teaching someone a new creative skill, showing them a little trick of the trade to help them master a chosen project and make it their own!
I am thrilled to be sharing with you my favorite and biggest project to date... the first in a series of craft e-courses.
Though I cannot single out one favorite craft skill, I would have to say crochet is in my top 3 so this is where I decided to begin.
I hope you love being part of my first on-line course and exclusive community as much as I have loved building it. 
Thank you for joining us.
Love Madhavi